INTEROPERABILITE ET CONVERGENCE DES PRATIQUES DE DESCRIPTION A LA BIBLIOTHEQUE NATIONALE DE FRANCE : LA VALORISATION DE LA COLLECTION CHARLES CROS
Data interoperability made possible by the development of the semantic web appears to be driving a convergence in descriptive practices at libraries, archives, and museums (LAM). According to the authors, the promotion strategy for the Charles Cros collection at the French National Library is a highly instructive example of this movement and its limitations, as well as a perfect illustration of the necessary changes in professional practices within the LAM community.
La interoperabilidad de los datos asequible gracias al desarrollo de la web semántica, parece producir un movimiento de convergencia de las prácticas de descripción de las bibliotecas, centros de archivos y museos (LAM). Según los autores, la estrategia de valoración de la colección Charles Cros en la Biblioteca Nacional de Francia es un ejemplo particularmente significativo de este movimiento y sus límites, al mismo tiempo que demuestra perfectamente la evolución necesaria de las prácticas profesionales dentro del LAM.
L'interopérabilité des données, permise par le développement du web sémantique, semble amorcer un mouvement de convergence des pratiques de description des bibliothèques, centres d'archives et musées (LAM). Selon les auteurs, la stratégie de valorisation de la collection Charles Cros à la Bibliothèque nationale de France est un exemple particulièrement révélateur de ce mouvement et de ses limites, en même temps qu'elle illustre parfaitement l'évolution nécessaire des pratiques professionnelles au sein des LAM.
Fichier principal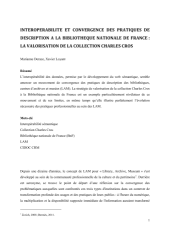 Interopérabilité et convergence des pratiques de description à la BnF.pdf (1.07 Mo)
Télécharger le fichier
Origin : Files produced by the author(s)