Image Retrieval in Digital Libraries - A Large Scale Multicollection Experimentation of Machine Learning techniques
While historically digital heritage libraries were first powered in image mode, they quickly took advantage of OCR technology to index printed collections and consequently improve the scope and performance of the information retrieval services offered to users. But the access to iconographic resources has not progressed in the same way, and the latter remain in the shadows: manual incomplete and heterogeneous indexation, data silos by iconographic genre. Today, however, it would be possible to make better use of these resources, especially by exploiting the enormous volumes of OCR produced during the last two decades, and thus valorize these engravings, drawings, photographs, maps, etc. for their own value but also as an attractive entry point into the collections, supporting discovery and serenpidity from document to document and collection to collection. This article presents an ETL (extract-transform-load) approach to this need, that aims to: Identify and extract iconography wherever it may be found, in image collections but also in printed materials (dailies, magazines, monographies); Transform, harmonize and enrich the image descriptive metadata (in particular with machine learning classification tools); Load it all into a web app dedicated to image retrieval. The approach is pragmatically dual, since it involves leveraging existing digital resources and (virtually) on-the-shelf technologies.
Si historiquement, les bibliothèques numériques patrimoniales furent d'abord alimentées par des images, elles profitèrent rapidement de la technologie OCR pour indexer les collections imprimées afin d'améliorer périmètre et performance du service de recherche d'information offert aux utilisateurs. Mais l'accès aux ressources iconographiques n'a pas connu les mêmes progrès et ces dernières demeurent dans l'ombre : indexation manuelle lacunaire, hétérogène et non viable à grande échelle ; silos documentaires par genre iconographique ; recherche par le contenu (CBIR, content-based image retrieval) encore peu opérationnelle sur les collections patrimoniales. Aujourd'hui, il serait pourtant possible de mieux valoriser ces ressources, en particulier en exploitant les énormes volumes d'OCR produits durant les deux dernières décennies (tant comme descripteur textuel que pour l'identification automatique des illustrations imprimées). Et ainsi mettre en valeur ces gravures, dessins, photographies, cartes, etc. pour leur valeur propre mais aussi comme point d'entrée dans les collections, en favorisant découverte et rebond de document en document, de collection à collection. Cet article décrit une approche ETL (extract-transform-load) appliquée aux images d'une bibliothèque numérique à vocation encyclopédique : identifier et extraire l'iconographie partout où elle se trouve (dans les collections image mais aussi dans les imprimés : presse, revue, monographie) ; transformer, harmoniser et enrichir ses métadonnées descriptives grâce à des techniques d'apprentissage machine – machine learning – pour la classification et l'indexation automatiques ; charger ces données dans une application web dédiée à la recherche iconographique (ou dans d'autres services de la bibliothèque). Approche qualifiée de pragmatique à double titre, puisqu'il s'agit de valoriser des ressources numériques existantes et de mettre à profit des technologies (quasiment) mâtures.
Fichier principal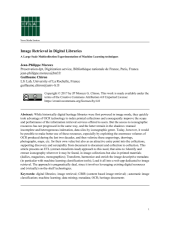 000-moreux-chiron_IFLA-Dresden-article.pdf (3.87 Mo)
Télécharger le fichier
Origin : Publisher files allowed on an open archive